Dextrose Injection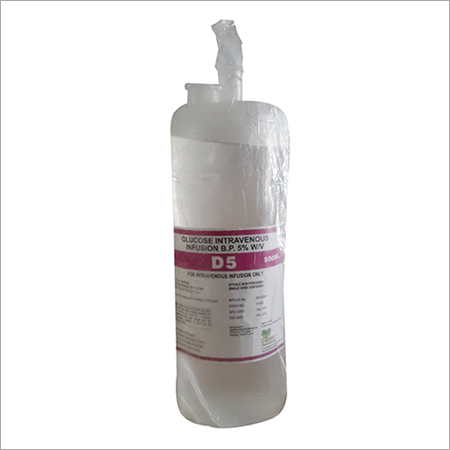 Dextrose Injection
Product Description
Dextrose 5% infusion
Dextrose 5% infusion is a simple sugar, which is chemically similar to glucose, or blood sugar. It may be recommended when a person is dehydrated or has reduced blood sugar. Dextrose powder is erstwhile utilized as a nutritional supplement by muscle builder or body builder who are looking for a gain in their weight and muscle. Dextrose is the figure of a simple sugar, which is made from corn and is chemically indistinguishable to glucose, or blood sugar. It is often utilized in baking products as a sweetener, and can be usually found in items such as refined foods as well as corn syrup. Dextrose 5% infusion has may medical purposes and is dissolved in solutions that are conferred intravenously that can be united with other medicates, or utilized to increase blood sugar in a person.
Uses
Dextrose is utilized in different concentrations for assorted purposes. For example, a doctor may recommend dextrose in an IV solution when the patient is dehydrated and has low-level of blood sugar. Dextrose IV solutions can also be mingled with some drugs, for IV administration. Dextrose is a carbohydrate that is one portion of nutrition in a normal diet. Solutions incorporating dextrose give calories and may be conferred intravenously in accumulation with amino acids and fats. This is known as total parenteral nutrition (TPN) and is utilized to give nutrition to those who cannot assimilate or get amino acids, fats and carbohydrates through their bowel.
Advanced-concentration dextrose injections are only given by professionals. These injections are administrated to people whose blood sugar may be reduced and who are able to swallow the foods, dextrose tablets or drinks.
If a persons potassium levels are excessively high (hyperkalemia), erstwhile doctors also provide dextrose injections of 50 percent, preceded by insulin intravenously. When the cells take in the redundant glucose, they also put up potassium. This assists to lower a persons blood potassium levels. The dextrose is recommended to prevent the person from being hypoglycemic. The insulin is handling the raised potassium.
People with hypoglycemia (chronically low blood sugar) or diabetes may carry dextrose gel or tablets in case their blood sugar gets excessively reduced. The gel and tablets quickly dissolve in a persons mouth and boost the blood sugar levels. If an individual's blood sugar is less than 70 mg/dL and they are experincing low blood sugar symptoms, they may require to take the dextrose tablets. Instances of low blood sugar symptoms include confusion, sweating, weakness and overly-fast heart rates.
Side Effects
Dextrose should be attentively given to people who are suffering from diabetes, because they might not be capable to process dextrose as speedily as would someone without the state. It can increase the blood sugar to an overly level, which is better-known as hyperglycemia.
Symptoms include:
Fruity smell on the breath

Increasing thirst with no known reasons

Dry skin

Dehydration

Nausea

Shortness of breath

Stomach upset

Unexplained weakness

Urinating frequently

Vomiting

Mental confusion
Precaution
Dextrose is not appropriate with to people who are with certain types of medical conditions. This is because the medicine could possibly cause too-high blood sugar or fluid moves in the body that result in swelling or fluid accumulation in the lungs.
Avoid the products;
If you are a patient of hyperglycemia, or if you have high blood sugar.

If you have hypokalemia, or reduced potassium levels in the blood.

If you have peripheral puffiness, or swelling in the feet, arms or legs.

If you have pulmonary swelling, when fluids increase in the lungs.

If you are a diabetic and the doctor recommends you dextrose oral gel or tablets, these should only be utilized when you have a reduced blood sugar reaction. The diabetes educator should teach you how to point the signs of low blood sugar and when to take the tablets.

If you have an allergic reaction to corn, you could have an allergy to dextrose. Confer with the your doctor before making use of it.
| | |
| --- | --- |
| BRAND NAME | D5% INFUSION |
| Active Ingredients | Dextrose 5% infusion |
| Strength | Dextrose 5% infusion |
| Packing | 500 ML |