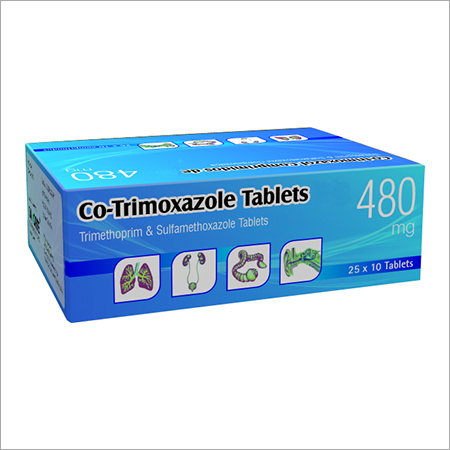 Co Trimoxazole Tablets 480mg
Product Description
Co-trimoxazole is utilized to medicate some particular bacterial infections, such as bronchitis (infection of the tubes leading to the lungs), pneumonia (a lung infection), and contagions of the ears, urinary tract and intestines. It also is utilized to treat 'travelers' diarrhea. The medication is an accumulation of trimethoprim and sulfamethoxazole and comes in the class of medications known as sulfonamides. It works by blocking the development of bacteria. Antibacterials will not kill viruses that can reason in colds, influenza or some other viral infections.
Side effects
Co-trimoxazole may result in side effects. Inform your doctor if any of these indications are intense or do not go away:
Nausea

Vomiting

Loss of appetite
If you find any of the following symptoms, inform your doctor immediately:
Rash

Itchiness

Sore throat

Fever or colds

Severe diarrhea that may occur with or without fever and stomach spasms (may occur up to 2 months or more after your duration of treatment.

Deficiency of breath

Coughing

Out-of-the-way bruising or bleeding

Yellowing of the eyes or skin

Paleness

Red or purple skin appearances

Joint aches, muscle pain
Dosage
Co-trimoxazole comes as a tablet and a mixture (liquid) that is to be taken orally. Usually it is taken two times a day but may be taken up to four times a day when utilized to treat certain intense lung infections. Go through the directions on your prescription label cautiously, and ask your doctor to explain any part you do not interpret. Take co-trimoxazole exactly as suggested without increasing or decreasing the amount in its dosages.
You should with co-trimoxazole. If you begin to feel finer during the first few days of therapy it's good and if your symptoms do not better or if they get worsened, call the doctor.
Shake the fluid well before every use to mix the medicine equally.
Use co-trimoxazole until you complete the prescription, even if you feel finer. Do not stop taking co-trimoxazole without consulting to your doctor.
Precaution
Inform your doctor if you are sensitized to co-trimoxazole, any other medicines, or any constituents in co-trimoxazole tablets and mixture. Ask your pharmacist for a listing of ingredients.
Inform your doctor what other prescription and nonprescription medicines, herbal products, vitamins, nutritional supplements you are taking or think to take with the usage of this medicine. Be confident to mention the following: amantadine; angiotensin converting enzyme substances such as benazepril (Lotensin), fosinopril (Monopril), perindopril (Aceon), quinapril (Accupril), ramipril (Altace), lisinopril (Prinivil, Zestril), moexipril (Univasc), captopril (Capoten), enalapril (Vasotec), and trandolapril (Mavik); anticoagulant medication ('blood thinners') such as cyclosporine (Gengraf, Neoral, Sandimmune); warfarin (Coumadin, Jantoven); oral diabetes medicines such as glyburide (Diabeta, Glynase), pioglitazone (Actos), metformin (Fortamet), glipizide (Glucotrol), repaglinide (Prandin) etc.
Inform your doctor if you are suffering from thrombocytopenia (less than normal number of platelets) or have a history of this disease that is caused by taking trimethoprim or sulfonamides.
If you are suffering from Megaloblastic anemia (abnormal red blood cells) grounded by folate insufficiency (reduced blood levels of folic acid) and phenylketonuria.
Before you start the dosage of this medicine consult the doctor in case you have severe allergic reaction; asthma; low-level of folic acid in the body that may be grounded by malnutrition (you do not eat or cannot digest the nutrients required for good health); porphyria (an inherited blood malady that may reason in skin or nervous system troubles), glucose-6-phosphate dehydrogenase (G-6-PD) deficiency, human immunodeficiency virus (HIV) infection or others.
Pregnant and breast-feeding women are recommended to communicate with the doctor before the dosage of this medication.
Avoid unneeded or long exposure to sunlight and wear protective clothing, when you are in the treatment duration of this medication. Wear sunglasses, and apply sunscreen before you going outdoors as Co-trimoxazole may make the skin sensitive to sunlight.
Trade Information
300000 Per Year

35-45 Days