Alfacalcidol + Calcium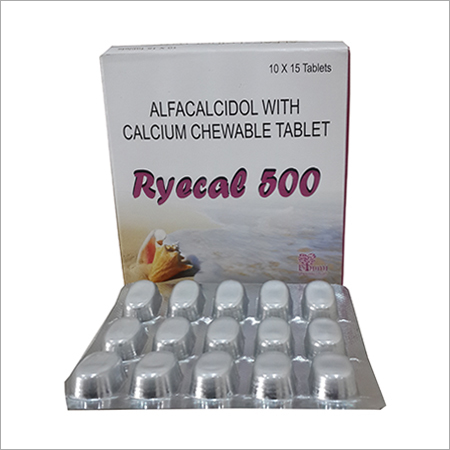 Alfacalcidol + Calcium
Product Description
Alfacalcidol + Calcium/Alfacalcidol Calcium Chewable Tablet 500 Mg
Alfacalcidol + Calcium is utilized to treat a wide number of conditions. the medicine belongs to a grouping of medicines named vitamin D analogues. It is a sort of vitamin D and is utilized to increase the amount of vitamin D in the body. This enhances the calcium levels in body and thus can help in medicating certain illnesses. In general this medicine is used to medicate diseases where the quantity of calcium and phosphate (which is managed by the level of vitamin D) in your body requires a change. Advantages of being on this medicate can include control of the levels of calcium and phosphate in the body.
Mentioned below are the typical usages of Alfacalcidol + Calcium.
Medicate and prevent bone conditions, which are reasoned by kidney failure (osteodystrophy).

Treat sicknesses and abnormalities affecting the parathyroid glands that make a substance called the parathyroid hormone.

Correct the reduced levels of calcium in the blood of newborn infant (hypocalcaemia)

Treat the demulcent and deformity of the bones that occur due to the deficiency of calcium (osteomalacia or rickets).
The medicine can be also used in some particular condition that is not listed here.
Side Effects
Excess occurrence of urine more than often.

Enlargement of any part of your body.

Fever with a pain.

Thirsty sensation, dry mouth

Metallic taste in your mouth

Weakness, pain in the muscles or bones

Sickness

Constipation

Itchiness in skin

Rash

Hives (urticaria)
If any of these side effects prevail, inform the doctor without delay. Indications of a solemn allergic reaction include:itching, rash, swelling (particularly of the face, tongue, throat), giddiness, troubled breathing. This is not an absolute list of possible side effects. If you notice new effects, which are not cited above, contact your doctor, immediately.
Precautions
Before using Alfacalcidol + Calcium, it will be good to consult with the pharmacist. Tell him if you are sensitized to it; or to some other vitamin D analogues; or if you have any other allergic reaction. This medicament should not be utilized if you have certain medical preconditions. In case of hypercalcaemia (high levels of calcium in your blood); a condition named calcification (advanced levels of calcium in your body tissues), a doctors' recommendation is must. Your medical history should be known to your health care provider particularly any of the following: kidney troubles such as kidney stones (nephrolithiasis), taking another kind of medicines called cardiac glycoside like digoxin. The safety of Alfacalcidol + Calcium has not been constituted during pregnancy. Ask the doctor if you have any doubts regarding this medication.
It is sensible to bound the use of this medication during pregnancy and during breastfeeding, whenever possible. Nevertheless, your doctor may decide that the profits outweigh the risks in individual situations and after a careful categorization of your particular health situation.
Interaction
Tell your pharmacist if you are taking vitamins or some other complementary curatives such as herbal products, as these can also make an interaction with medicines. If you are consuming more than one medicine, these may act with each other. In these cases, the dose of your medications may need to be tuned or you may be proctored more closely.
The following medications may interact with Alfacalcidol + Calcium:
Anticonvulsants: Fits or epilepsy.

Cardiac glycosides, such as digoxin for heart disorders

Colestyramine: for reducing the cholesterol level, or to medicate stop some types of itching or diarrhea

Thiazide diuretics, often known as "water tablets"
This info does not incorporate all possible interactions. So seek a medical advice using before taking this medicine.
Dosage
This medication is accessible as a drops (oral), capsule (oral), or injection (into your vein).
Use this medicament regularly in order to get the most advantage from it.

Remember to take it at the same time each day - unless particularly told not to by your doctor.

Certain medical states may require various dosage instructions as recommended by your doctor.
What dose?
Dosage is dependent on the age, gender, medical status, effect to therapy, and the usage of certain interacting medicines.
| | |
| --- | --- |
| BRAND NAME | RYECAL 500 CHEWABLE TABLET |
| Active Ingredients | Alfacalcidol + Calcium |
| Strength | Alfacalcidol 0.25mcg.+ Calcium 500mg |
| Packing | 1 x 15 |