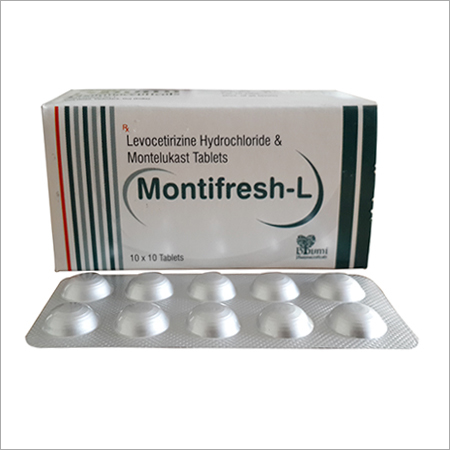 Montelukast Levocetrizine Tablet
Product Description
Levocetrizine + Montelukast
Levocetrizine + Montelukast is a amalgamated therapy, which is recommended for the systemic treatment of allergies such as obstructive airway diseases, chronic urticaria and rhinitis. Montelukast stands to leucotriene receptor antagonist.
Precautions
The combo medicine is counseled for patients who have an allergy to either or both hepatic impairment, drugs, NSAID allergic reaction, Churg-Strauss syndrome. Montelukast + Levocetirizine is also advised in children who are less than six months of age. The medication can cause dizziness. It is recommended not to drive vehicles or operate heavy machinery that demand attention and alertness.
Other Drug Interactions
Montelukast + Levocetirizine may interact with phenytoin, CNS depressants, rifampicin, prednisone .
Other Interactions
Do not take in alcohol while taking this medicine as it can defect the effect of medicine.
Dosage
For treatment of sensitized rhinitis and prolonged asthma (Adults):
Consider direction of 10 mg one time a day in the evening.
For Prophylaxis of exercise-evoked asthma (Adults):
Consider direction of 10 mg of Montelukast + Levocetirizine, at least two hours before exercising or workout.
List of Contraindications
Montelukast+Levocetirizine and Pregnancy
USFDA (United States Food and Drug Administration) pregnancy category B. Montelukast + Levocetirizine may not reason in harm to an unborn embryo. Before its treatment, the patient should talk about the usage of this medicine with the physician, if they are readying for a pregnancy.
Montelukast+Levocetirizine and Lactation
It is uncertain whether the medicate could pass through the breast milk to a breast feeding infant. Consult your doctor before consuming this medicine if you are nursing mother.
| | |
| --- | --- |
| BRAND NAME | MONTIFRESH L TABLET |
| Active Ingredients | Levocetrizine + Montelukast |
| Strength | Levocetrizine 5mg + Montelukast 10mg |
| Packing | Blister , Alu Alu Pack |
Trade Information
300000 Per Month

35-45 Days