Levofloxacin with Ornidazole Tablet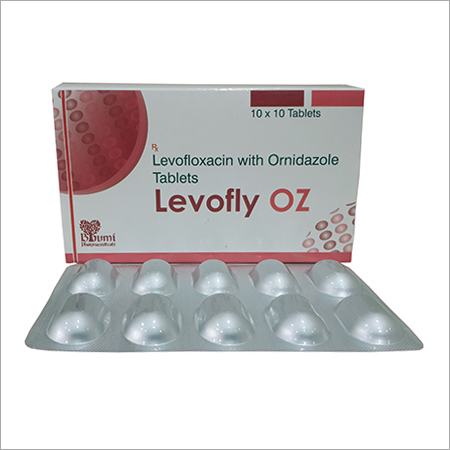 Levofloxacin with Ornidazole Tablet
Product Description
Levofloxacine + Ornidazol
USES
The salt accumulation Levofloxacin / Ornidazole is utilized for the treatment of skin infections, soft tissue infections, bacterial infections, bacterial disease affecting the skin and lungs, protozoan infections, plague and some other conditions. The medication is utilized for the treatment, prevention, control and betterment of the following diseases, states and symptoms:
Bacterial disease affecting the skin and lungs

Bacterial infections

Skin infections

Soft tissue infections

Epidemic disease

Protozoan contagions

Infections during surgical activities
Side effects
The most usually reported side-effects of Levofloxacin / Ornidazole are fungal infection, breathlessness, indigestion, sensation of spinning, taste disturbance, and vomiting. The following is a list of all possible side effects, which may occur. This is not an all-inclusive list as these side effects may not always necessarily occur. These are some side effects that may be uncommon but serious. Confer with your doctor if you notice any of the following side effects, particularly if they do not depart.
Indigestion

Mycosis

Shortness of breath

Taste Perturbation

Sensation Of Spinning

Vomiting

Skin Rash

Itching

Muscle Pain

Increased liver enzymes

Abnormal blood counts

Compulsion to vomit

Stomach Pain

Anomalously low number of blood platelets

Constipation

Diarrhea

Dizziness

Drowsiness

Uncontrolled Quivering

Vexation

Inability to sleep

Mental confusion

Anxiety

Gas

Atypical Taste

Tingling or apathy in the fingers or toes

Nausea

Tremors

Dizziness

Allergic Skin Reaction

Fatigue

Fits
If you notice any other side effects tat is not listed here, interaction with your doctor is a must for medical advice.
Precautions
Before taking this product, inform your doctor about your present-day list of medicament, allergies, pre-existing diseases, over the counter products (e.g. vitamins, herbal supplements, etc.), and current health states (e.g. pregnancy, upcoming surgery, etc.). Some health states may make you more allergic to the side effects of the medicate. Take as recommended by your doctor. The Dosage is based on your medical condition. Some important counseling factors are listed below.
If you are having multiple sclerosis and epilepsy.
Driving a vehicle or the operation with heavy machinery after taking the medicine should be avoided.
Consumption of medicine in an empty stomach should be avoided.
If you are having any particular eye disorder.
History of extended QT interval and uncorrected electrolyte disruptions.
Pregnant and breastfeeding woman should go for a medical advice.
Protection of the skin from direct sunlight is requisite.
Swallow the whole tablet with water.
Take plenitude of fluids.
Take this medicate at least 2 hours before or after having antacids, iron tablets or sucralfate.
Interaction
If you take other medicates or some over the counter products concurrently, the effects of Levofloxacin / Ornidazole may change. This may enhance the danger for side effects or reason in improper work of medicines. Inform your doctor about all the medicates, vitamins, and herbal products you are using, so that you doctor can help you to manage the drug interactions. It may interact with the following medicates and products:
Aluminium hydroxide and oxide

Cimetidine

Probenecid

Sucralfate

Cyclosporin A

Cyclosporine

Fenbufen

Theophylline

Warfarin

Vecuronium bromide
Contraindication:
Hypersensitivity reaction to Levofloxacin / Ornidazole is a contraindication. It should not be taken if you have the conditions, mentioned below:
Epilepsy

History of sinew disorders in children

Hypersensitivity

Lactation

Pregnancy

Multiple sclerosis

Renal or hepatic damage
Dosage

Consult the doctor for having the accurate dosages of this medication as it depends on the age and response to medical condition.
| | |
| --- | --- |
| BRAND NAME | LEVOFLY OZ |
| Active Ingredients | Levofloxacine + Ornidazole |
| Strength | Levofloxacine 250mg + Ornidazole 500mg |
| Packing | Alu Alu pack |
Trade Information
300000 Per Month

35-45 Days