Dextromethorphan + Phenylephrine ,Chlorpheniramine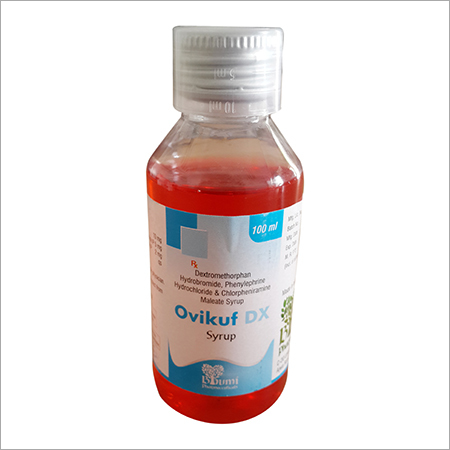 Dextromethorphan + Phenylephrine ,Chlorpheniramine
Product Description
Dextromethorphan + Phenylephrine ,Chlorpheniramine
Dextromethorphan + Phenylephrine ,Chlorpheniramine is a combination medicament, which is utilized to treat symptoms reasoned by the common cold, allergies, hay fever, flu, or some other breathing illnesses (e.g., bronchitis, sinusitis). Dextromethorphan is a cough drug, which affects a certain portion of the brain (cough center), diminishing the the itch to cough. Decongestants assists in relieving stuffy nose indications. Antihistamines cures itchy eyes/nose/throat, runny nose, watery eyes and sneezing.
As cough-and-cold products are not considered to be safe or efficacious in children who are below 6 years of age. Consequently, do not utilize this product to medicate cold symptoms in children younger than 6 years unless particularly recommended by the doctor. Ask the doctor for more information regarding the safe usage of Dextromethorphan + Phenylephrine ,Chlorpheniramine.
The medication does not cure or reduce the length of the common cold and may cause serious side effects. To evade the risk for its serious side effects follow all dosage directions, carefully. Do not make use of this product to make a child sleepy-eyed. Do not use other cough-and-cold medicament that might incorporate the same or kindred ingredients.
Side Effects
If the health care provide has suggested you this medicine it means that he or she has concluded that the benefit to you get from this drug is greater than the danger of its side effects. Some people utilizing this medication do not experience serious side effects. But there are some side effects of this medicate, which are common.
Drowsiness

Dizziness

Headache

Blurred vision

Upset stomach

Nausea

Constipation

Dry mouth/nose/throat may occur

Mood swings

Confusion

Hallucinations

Bruising/bleeding

Fast/ slow/ irregular heartbeat

Seizure

Shaking (tremors)

Troubled urinating

Weakness

Ringing in the ears

Rash

Itching/swelling (particularly of the face/tongue/throat)
If any of the above mentioned effects occur notify your doctor or chemist promptly.
To relieve the dry mouth, drink sugarless hard candy or ice chips and chew gum. You can also drink water, or utilize a saliva substitute. This medication can dehydrate and thicken the mucus in your lungs, making it more hard to breathe. To obviate this effect, drink plenty of liquids unless otherwise recommended by your doctor.
A very serious hypersensitivity reaction to this drug is implausible, but seek proximate medical attention if it happens.
This is not the absolute list of the possible side effects of Dextromethorphan + Phenylephrine ,Chlorpheniramine. If you observe some other effects, which are not mentioned above, talk to the your doctor instantly.
Precautions
Before you make the use of this product, it is better to have some precautions.

Don't use the medication if you are allergic to it or if you are going through some other allergies.

The product may incorporate inactive elements, which can reason in allergic reactions or some other difficulties.

Before taking this medicament, inform the doctor about your medical history, particularly of: a certain eye problem (glaucoma), heart problems, breathing problems (e.g., asthma, respiratory disease), diabetes, high blood pressure, seizures, urination problems (e.g., trouble excreting due to expanded prostate, urinary retention). stomach/intestinal troubles (e.g., blockage, ulcers), kidney problems, liver disease, overactive thyroid (hyperthyroidism).
This medicine may incorporate aspartame. If you have phenylketonuria (PKU) or any different condition that necessitates you to restrict your consumption of aspartame (or phenylalanine), confer with the doctor or pharmacist regarding the harmless usage of this medication.
Liquid formulations of Dextromethorphan + Phenylephrine ,Chlorpheniramine may comprise sugar or alcohol. Attentiveness is advised if you have alcohol dependence, diabetes or liver disease. Communicate with your doctor or pharmacist about the harmless usage of this product.
Older grownups may be more irritable to the side effects of this medicate, especially dizziness, constipation, fast heartbeat, trouble urinating, blood pressure changes. drowsiness, mental/mood changes or dizziness, drowsiness and confusion can enhance the endangerment of falling.
Children may be more erogenous to the effects of medication. In young children, this medication may effect in agitation/exhilaration instead of sleepiness.
During pregnancy, this medicament should be utilized only when clearly required.
This medication may go through the breast milk. Confer with the doctor if you are a breast-feeding mother.
Interaction
If you are taking this medicament under in conformity with the doctor's direction, he or she may be aware of the possible drug interactions of this product.
Taking some MAO substances with this medicament may reason a serious (possibly deadly) drug interaction.
Avoid taking methylene blue, moclobemide, selegiline, isocarboxazid,phenelzine, tranylcypromine, procarbazine, rasagiline, or during treatment with this medicament.
Most MAO activators should also not be used for two weeks before treatment with this medicament.
If you are presently taking any of the medications cited above, inform your doctor or pharmacist before start this medicament. Deflect taking MAO inhibitors within 2 weeks of initiating or stopping this medication.
Discuss with your doctor about the possible interactions of the medicine especially mentioned below:
Antihistamines applied to the skin (such as ointment, spray, diphenhydramine cream,)

Antispasmodics (e.g., belladonna alkaloids, atropine), beta blockers (e.g. metoprolol, atenolol).

Drugs for Parkinson's malady (e.g., anticholinergics such as trihexyphenidyl, benztropine,)

Guanethidine, some inhaled anesthetics (e.g., halothane)

Methyldopa

Reserpine

Tricyclic medications (e.g., desipramine).
The Dextromethorphan + Phenylephrine ,Chlorpheniramine can also interact with the medicine, which cause drowsiness such as:
Certain antihistamines (e.g. diphenhydramine)

Anti-seizure drugs (e.g., carbamazepine), medicine for sleep or anxiousness


Muscle relaxants

Narcotic pain reliefs


Psychiatric medicament (e.g., risperidone, chlorpromazine, trazodone).
This medication may intervene with some particular medical/laboratory tests, possibly causing spurious test results. Consult the doctor for all interacting medicines of this product.
Dosage
The dosage of Dextromethorphan + Phenylephrine ,Chlorpheniramine is based on the age, medical state as well as response to treatment. If you are using this medicine for allergy or hay fever indications, take it on a regular basis so as to get the most advantages from it. Indecent use of this product (abuse) may result in serious helsth trauma (e.g., brain damage, death, seizure). Do not add on your dose by your own take it more often, or use it for a longer time than suggested.
Take this drug by mouth with or without food with a full glass of water (8 ounces or 240 milliliters) or as recommended by your doctor. This medicament may be consumed with food or milk if stomach upset fall out.
If you are taking the liquid form, make the use a medication measuring instrumentality to cautiously measure the recommended dose. The use of a household spoon should be discarded as it won't give you the exact amount of medicine.
If your liquid sort is a suspension, shake the bottle in a well manner before each dose.
If you are using the extended-release capsules, swallow them completely without crushing or chewing. Doing so can deliver all of the drug straightaway, increasing the hazard of side effects.
| | |
| --- | --- |
| BRAND NAME | OVIKUF DX |
| Active Ingredients | Dextromethorphan + Phenylephrine , Chlorpheniramine |
| Strength | Dextromethorphan 10mg + Phenylephrine 5mg , Chlorpheniramine 2mg |
| Packing | 100 ML bottle |
Trade Information
300000 Per Year

35-45 Days