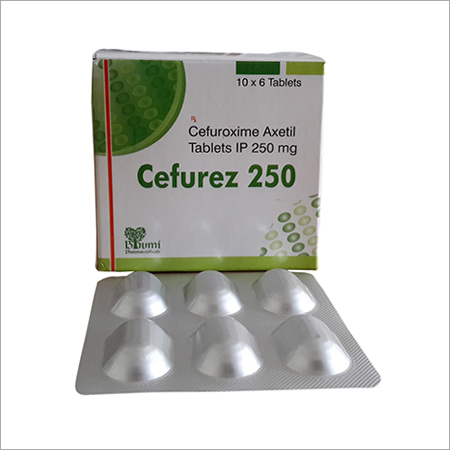 Cefuroxime 250
Product Description
Cefuroxime 250
Cefuroxime contains cefuroxime axetil, these coated and oblong tablets are white to somewhat yellowish, biconvex, and scored on both laterals. The medicine is known for the treatment of the contagions mentioned below in children and adults from the age of 3 months.
Chronic streptococcal pharyngitis and tonsillitis.

Acute bacterial inflammation.

Chronic otitis media.

Acute exacerbation of prolonged bronchitis.

Urinary tract infection

Pyelonephritis.

Soft tissue infections.

Early Lyme disease.
Consideration should be presented to official counseling on the befitting use of antibacterial drugs and agents. The common course of therapy is seven days (may compass from five to ten days). Cefuroxime is mainly excreted by the kidneys. In patients with conspicuously impaired renal function it is suggested that the dosage of cefuroxime should be decreased to make up for its slower excreting. It is effectively abstracted by dialysis.
Side effect
The most usual and well known adverse reactions of the medication are Candida overgrowth, dizziness, gastrointestinal disturbances, eosinophilia, headache and ephemeral outgrowth in liver enzymes.
Common
Eosinophilia

Headache, dizziness

Diarrhea

Nausea

Abdominal pain

Transient growth in hepatic enzyme levels.
Cephalosporins as a grade tend to be engrossed onto the surface of red cells membranes and react with antibodies oriented against the medicate to produce a positive Coombs' test (that can impede with cross-matching of blood) and very seldom haemolytic anaemia. Transient growth in serum liver enzymes have been discovered, which are normally reversible.
Dosage
Following direction of cefuroxime axetil tablets limit serum levels (2.9 μg/mL for a 125 mg dose, 7.7 μg/mL for a 500 mg dose, 4.4 μg/mL for a 250 mg dose, and 13.6 μg/mL for a 1000 mg dose) pass approximately 2.4 hours after dosing when taken with food. The pharmacology of cefuroxime is linear over the oral dose range of 125 to 1000 mg. No accretion of cefuroxime passed following repeat oral doses of 250 to 500 mg.
No particular precaution is needed in the elderly patients with average renal function at dosages up to the normal maximal of 1 g per day. Elder patients are more liable to have reduced renal function; hence, the dose should be attuned in conformity with the renal function in the elder person.
Cefuroxime axetil tablets have oral usages and should be used after food for optimal absorption.
Indication
Bacterial opposition to cefuroxime may be due to one or more of the following executions:
•Hydrolysis by beta-lactamases; by prolonged-spectrum beta-lactamases (ESBLs), and AmpC enzymes, which may be elicited or firmly derepressed in certain aerobic Gram-negative bacteria species.
• Decreased affinity of penicillin-valid proteins for cefuroxime.
• Outer membrane solidity, which restricts entree of cefuroxime to penicillin constricting proteins in Gram-negative bacteria.
• Bacterial efflux pumps.
Organisms which have acquired opposition to other injectable cephalosporins are foreseen to be resistant to cefuroxime.
Overdose
Overdose can effect in neurological sequelae including nervous disorder, coma and convulsions. Indications of overdose can occur if the dose is not decreased fittingly in patients with renal damage.
| | |
| --- | --- |
| BRAND NAME | CEFUREZ 250MG |
| Active Ingredients | Cefuroxime 250 |
| Strength | Cefuroxime 250mg |
| Packing | Alu Alu |
Trade Information
300000 Per Year

35-45 Days